Girls is true, this is not the most sought-after color, the first that comes to mind, or the one we consider more fashionable when it comes to thinking about a change that benefits our beauty, in fact we do not even take it in account unless it is to dye our hair completely and yet it is never orange as such.
However we want to show you that the only colors available to you are not black or blond, but this color has properties and tonalities that we are sure you do not know about the orange highlights.
You must take into account that everything lies in the skills and knowledge possessed by the person who is going to dye your hair, a professional who knows varied techniques will know where and how to place the orange highlights in your hair as well as which are the tones that go according to you, your type of hair and the ones you want to improve the appearance of this, that is why you want to show you the variety that is within your reach with orange highlights.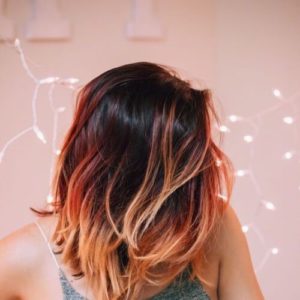 It would surprise you how orange highlights can enhance your beauty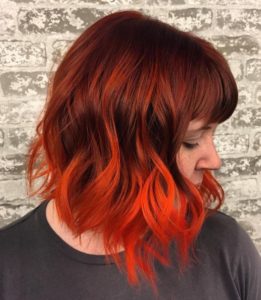 Orange is a bright color that like yellow is predominant and known to attract and produce luminosity, when you apply orange highlights to your hair, all these characteristics are added to your hair in the same way, besides producing a lot of brightness, which will make show your hair much healthier.
It will also make your hair look like it will be nuanced and above all it will add versatility regardless of the natural color of your hair or the color of the one you have dyed at the moment, the key is to choose the right shade.
The techniques to dye hair with highlights, in this case with orange highlights are getting older and you will be surprised to know that if you choose the right color and you place yourself in the hands of a professional in this area, your hair will end up doing the rest of the work making you look fashionable and that other girls want to have hair as beautiful and full of life as yours.
Choosing the thickness of the orange highlights will determine the effect that these will have on your hair, the thinner they are the more subtle the light will be added to your face, without being thicker the effect will be more radical.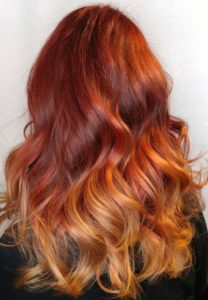 Brown hair with orange highlights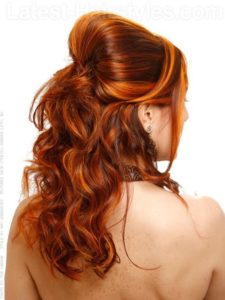 Although we know that among all women, brown hair is the safest hair tone with respect to a change because it never looks bad in any skin tone you should also know that orange highlights can make brown hair break the patterns and come out of what everyone considers ordinary to become an out-of-the-ordinary style equally beautiful and even more than betting on insurance for what we already know that looks good, light orange or tangerine highlights can add more diversity to your hair.
At this moment there is a great variety of shades available in orange highlights for brown hair, so do not think directly that your hair will be like that of a girl who paints her hair with a marker of that color, on the contrary she thinks about giving an opportunity to the different nuances that your hair can acquire through different techniques that have this color as the protagonist for your highlights, your brown hair accompanying with orange highlights will end up giving you an aspect and style that you never imagined before.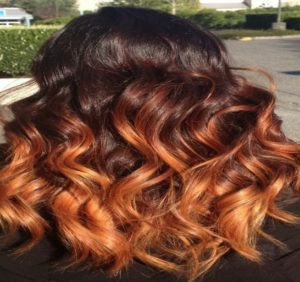 Discover colors that you did not even know that came from the orange
Among the variety of shades that there are for your hair with orange highlights you will discover colors that you did not even know that came from the orange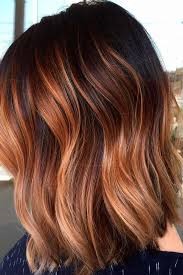 To make your brown hair shine like the sun you can add some orange highlights in merigold tones, which is an orange tone combined with the gold, is a glowing color that will stand out a lot in your hair, if you have short hair you will see the effect with lowlights, it will give you a wicked and dazzling appearance, you will see that your presence will not go unnoticed anywhere you go.
These types of orange highlights achieve the effect they call "less is more", so your hair will not only shine like the sun but will look perfect at any time of the day, no matter what others think your brown hair is boring, we want show you that when you play with the shades that have the color orange you can give your hair a much more graceful appearance, if you have chocolate brown hair your hair with orange highlights will look great with ginger tones, it will give your hair depth making it look manageable and abundant.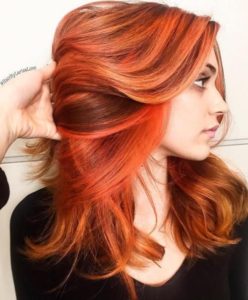 If you put orange highlights in cider tones correctly in your hair you will experience a radiant change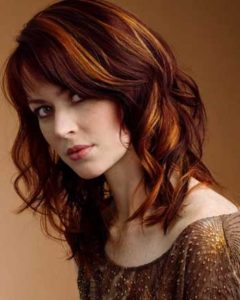 With all that we have mentioned before you should have assured that the orange tones can add a lot of diversity of benefit to your hair, but if we still do not convince you, wait, there is still more, one of the most beautiful shades for the application of the orange highlights is the cider tone, this tone is ideal for wavy hair with perfectly defined curls, although it can also work for you, you have straight hair, the effect that will generate the cider tone in your brown hair will cause a great impression.
To apply orange highlights in cider tones, you can choose the balayage technique, because with subtle brushstrokes you will add a resplendent facade to your hair, feel lucky for your brown hair even though many think it becomes monotonous, because now you know a lot of what what could you do to make it look much more beautiful, be careful of the discoloration plan that you decide to put into action before placing your highlights on your hair, with prudent decisions the final result will be excellent.
You can take a look at the next video so you can become more familiar with this beauty procedure.
Orange highlights on black hair, a broad possibility with incredible results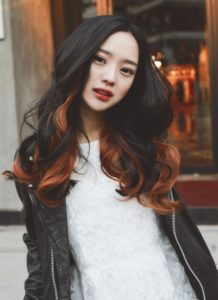 The wide range of shades of orange highlights that is available will surely like you a lot, the orange color can also stand out as a trend when its potential is exploited to the fullest, we know that black hair gives a lot of seriousness, dynamism and can sometimes give a personality mysterious and deep, however with shades of rust, clay and amber derived from orange your hair will acquire details that project formality and at the same time a funny personality, who would say that hair can say so much of a woman, right?
As you may have noticed the variety of shades for different hair colors is quite broad in term of orange highlights, so the final product will depend on multiple aspects of the time of realization, the skills and professionalism of the stylist and the clear ideas that you have about what you want to do with your hair, one of the main tips we can give you is that since black hair is totally exposed during discoloration, let it recover by waiting a week before applying the highlights.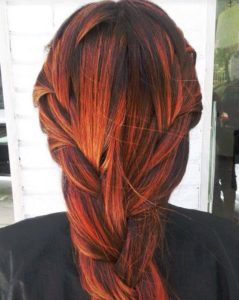 Blonde hair with orange highlights, wait girls, did you think we had forgotten about you?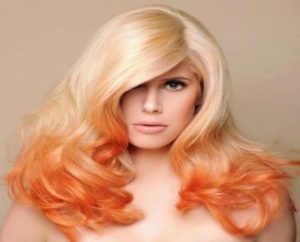 Blonde girls, wait, there is also a lot of information for you, your hair is completely beautiful and as many of the women have had to dye it blonde, they also know that those who have it naturally have a treasure.
Different shades like the bronze or the aforementioned cider will become some of your best allies for the application of your orange highlights.
A professional colorist can perfectly paint the highlights either traditionally or through some other techniques available, there is a particle that we want to talk to you a little later, the important thing is that you are impacted with the result and that your visits to the beauty salon be diminished as much as possible and above all to help you save money a little, who would not like this?
If you are naturally blonde and have never thought about dyeing your hair, you should know that the fibers of your hair are more delicate because of their light color, that is why you should look for professional stylists who care for your hair maybe a little more than normal During the whole procedure, the best thing you can do in terms of dyeing your blond hair with orange highlights is to place thin highlights or some thick ones but with less intensity of application to make your blonde hair stand out and look much more radiant.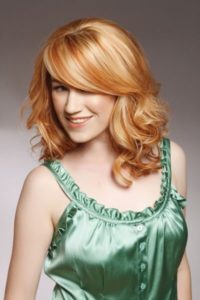 You will be amazed at how much the balayage technique can contribute to your orange highlights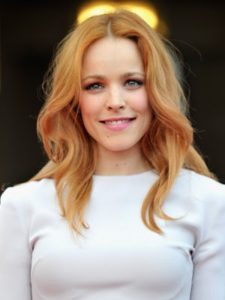 Even when we mentioned it before, you should know that one of the most indicated techniques for most of the orange tones is the balayage, the brush strokes to apply your orange highlights will make your hair look more subtle and sophisticated, besides having a much more natural appearance than that provided by other dyeing techniques for hair.
The balayage is one of the most used techniques in terms of the application of bright colors as is also the color red, it is definitely one of the beauty procedures for the most requested hair in beauty salons worldwide.
Other shades in derivatives of this color that will look beautiful with your orange highlights are the apricot and the sandstone.
These are usually ideal to be placed under the hair making it look deeper and full of volume, no matter the color of your hair, be blonde, brunette or dark hair, the orange highlights have a lot to contribute and now you know, so give an opportunity to these beautiful shades that you probably did not know to give your hair a 180 ° turn and your style completely change half of the incredible results.
The most important thing after applying your orange highlights is how you are going to take care of your hair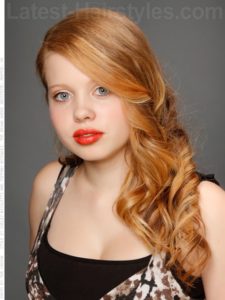 No matter what your type of hair, what really has value is everything you do to take care of it, make it look healthy; use products that can help make it look gorgeous, beautiful.
After the application of any dye, your hair may suffer some damage through the application of these chemicals or the effects of discoloration of your hair, in this case, after applying orange highlights to your hair, that is why we want talk about the products you should acquire after performing this beauty procedure to add much more style and beauty to your hair.
Among the many products that can benefit your hair after leaving the beauty salon with your orange highlights, the first we have to advise you to use are shampoo and conditioner formulated and specialized for dyed hair, you can also buy color treatments to procure the durability of your highlights, avoid bathe with hot water, this will weaken the fiber of your hair and make you dehydrate even more, choose a bath with warm water and if it is cold even better, all these elements are necessary for your hair continue to have a stunning and luminous appearance.
Did you know that masks could be the best friends of your hair with orange highlights in terms of hydration?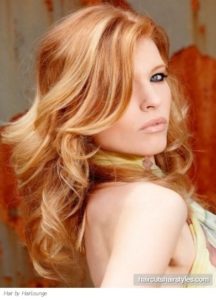 As we mentioned before, the priority you should have after having orange highlights is how you will pre-curate the hydration of your hair so that it always remains healthy, otherwise we can assure you that the dyeing work will not help if your hair looks dull and lifeless.
Turn your hair into the best friend of the masks for hair, we advise you to look for those that have intensive conditioning properties for dyed hair, this will make your hair hydrate more and more by applying these products
We also recommend you to forget the hair dryers and irons for a while, give your hair a time of comfort and rest because it needs it, if you continue using products that expose your hair at high temperatures you would be completely canceling the hydration work, try use products that generate heat as little as possible and if you intend to do so, we encourage you to buy a heat protector to protect your hair with orange highlights of greater damage and do not forget your touch-up appointment every so often and prepare to enjoy a hair full of light.
If you liked this article and would like to see more content like this, share it with your friends. Any suggestion or opinion, you can leave it in the comments section.
¡Por cierto! Antes de que te vayas, queremos recomendarte esto que seguro que te interesa:
Son una serie de contenidos a parte del que has leído que puede ser interesante para tí ¡Muchas gracias por leernos!